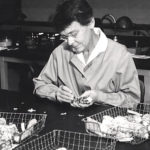 ARTEMISIA THEATRE: a reading of my play, MAIZE, September 25, 2015, at 8 p.m.
Artemisia performs its 2015 Fall Festival at The Frontier/Jackalope Theatre located at 1106 W. Thorndale in Edgewater. Easy access to the CTA Red Line and lots of street parking. Seating is limited so make your reservations today! www.artemisiatheatre.org
What turns a brilliant young scientist into an eccentric recluse? Faced with a threat to her beloved work with the maize plant, Barbara struggles against her past. MAIZE is inspired by the real-life Barbara McClintock whose research is still considered groundbreaking.
I'm especially excited that Artemisia chose MAIZE, which has only had readings by people who know me and my work. Playwrights learn most from strangers, because they ask all the hard and important questions. I'm also delighted because I love Artemisia's mission. New work, empowering women, presenting women's experience, everything I care about in one theatre.
Here are the director and actors.
Director: Mary Rose O'Connor
Mary Rose O'Connor is a Chicago-based theatre artist. Originally hailing from the great city of Wilmington, Delaware, Mary spent her formative years in Westminster, Maryland. She moved to Chicago after completing her undergraduate degree in Theatre Design & Production from Towson University in Baltimore and has been in Chicago ever since. Mary founded Lights Out Theatre Company, is a co-producer of The Gogo Show, a writer, performer, and director. In 2013, she founded the Trellis bookstore. Learn more about Mary and her recent work at maryroseoconnor.weebly.com.  "I'm a huge advocate for telling women's stories and I am so excited to share in that storytelling with Artemisia's Fall Festival.
About the Actors
Susan Gosdick
Susan Gosdick has been seen as an actor at The Shakespeare Project of Chicago, Drury Lane Oakbrook, Artists' Ensemble, Shaw Chicago and many others. She also works as a Voice and Dialect Coach.
"Four years ago, I had the opportunity to read for Julie Proudfoot's Failure is Impossible, which shared the history of Women's Suffrage from Susan B. Anthony's point of view. To get a deeper expression of women's lives and perspectives, we need more female playwrights. It's a great pleasure to read now the role of Barbara in MAIZE by Judith Pratt, and continue to bring to life these important voices.
Ashley Neal
Ashley Neal is a member of Rivendell Theatre Ensemble and was last seen in their production of These Shining Lives. She is also a recent graduate of Columbia College Chicago. Ashley has worked with many theaters in Chicago including Seanachi Theatre (now Irish Theatre of Chicago), greasy joan and co., and Chicago Dramatists.
Terry Bozeman
Terry Bozeman was last seen as Doc in FLYING for ELT's All Access Staged Reading Series. Other credits include roles at the Goodman Theatre, Northlight Theatre, Oak Park Theatre Festival, Court Theatre, The Organic Theatre and West Coast Theatre
Michael Doonan
Michael Doonan was recently featured in Chicago Shakespeare's production of Cyrano de Bergerac and will play Edmund in Long Day's Journey into Night at the Court Theatre in the spring of 2016.  "I am limited in my view of the world. We all have our own set of perceptions. If we're lucky we encounter a person, an event, a work of art that challenges those perceptions. Artemisia's mission is to produce works that challenge our world view. I feel lucky to be in this festival."
Anu Bhatt
Anu Bhatt was born in London, grew up in San Diego, and made Chicago her home in 2010. Recent Chicago acting credits include Lifeline's production of Jane Eyre, Rasak Theatre's Much Ado About Nothing – Bollywood Style and Henry VIII at Chicago Shakespeare.
Her Story is Our Story
Artemisia is breaking down gender norms all festival long. See six thrilling female-driven plays that are being staged as readings for the very first time. Then cast your vote to choose our next hit show! A friendly reminder: See a minimum of two readings to receive your voting ballot. Free Admission.