When get tired of the complexities of Game of Thrones #88 and life in general, I head for YA fantasy.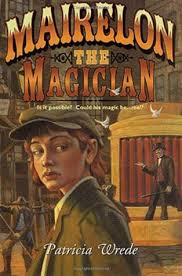 My most recent guilty pleasure was reading Patricia C. Wrede's Mairelon the Magician and its sequel, The Magician's Nephew (1991). In them, I saw a more than passing resemblance to the romance novels of Georgette Heyer—another guilty pleasure.
And I was pleased to note that Google confirmed my diagnosis, both in an article by Mari Ness on Tor, and in Wrede's blog.
Okay, I have now blown what few academic credentials I still possess by admitting that I read Georgette Heyer. But Mari Ness points out that Heyer started the whole Regency Romance trope, which should count for something among popular culture PhDs. Ness also notes that many fantasy writers have followed in Georgette's footsteps.
Wrede is one of them. The two books about Mairelon borrow liberally from Heyer's diction, and the finale of Mairelon the Magician is a lunatic scramble that goes way beyond the diving-into-the-cupboard ending of Heyer's Cotillion. Almost too far—I soon began to lose count of the participants
Wrede also has collaborated with Caroline Stevermer to create a collection of Regency fantasies, Sorcery and Cecelia, The Grand Tour, and The Mislaid Magician. These are a little too cute and lightweight for even my degraded tastes—that is, I don't re-read them.
But I do re-read Caroline Stevermer, especially her A College of Magics (1994). Stevermer's other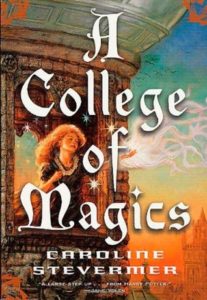 solo novels–A Scholar of Magics, Magic Below Stairs, When the King Comes Home, and River Rats–are good, but A College of Magics stands out from the pack. Although Amazon calls it a book for the 10 to 14 set, the complexity of the characters and the strange ending to the queen-commoner romance might daunt fans of the silly sweetness of Sorcery and Cecelia.
I have no guilt when re-reading A College of Magics.