As you can see from the cover, this ALICE is not from Lewis Carroll. We first meet Christina Henry's Alice in a horrid madhouse—the kind where you sleep on the floor, kept docile by powders with your meals. Object, and the sleep-inducing powders become injections that leave you drooling.
All this Alice has are her conversations with a man named Hatcher; conversations that take place through a mouse hole.
But the Jabberwock lives under the madhouse, and when the place catches fire, the Jabberwock escapes. So do Hatcher and Alice.
Hatcher takes Alice to his grandmother, who tells them that only the two of them can kill the Jabberwock, because all the Magicians are gone. And off they go. To find their way, they must visit Mr. Cheshire. Then they must deal with criminal lords named Mr. Carpenter, Mr. Walrus, and the Rabbit. Alice learns why she and Hatcher were in the madhouse, and grows from a scared girl to a tough woman.
Alice's Wonderland was never like this.
Lewis Carroll's Alice tales can be oddly creepy, but they've got nothing on this dark and bloody story. I'm not usually one for dark and bloody, but Alice and Hatcher are such strong, interesting characters, and the parallels with the original so much fun, that I enjoyed every page.
I finished this novel just in time for the sequel to be published. But I appreciate that ALICE ended completely, with a sense of more to come, but not a cliffhanger that insists that you purchase the next one. As an obstinate sort, I often just stay hanging on that cliff, rather than give in.
This time, however, I look forward to RED QUEEN. www.christinahenry.net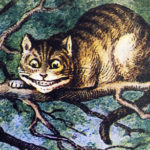 p.s. I prefer the original Tenniel drawings to the Disney Version.