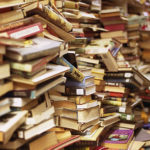 We are not only out of bookcases, we are out of walls to put them on. So I have to pick and choose the books I keep. (The ones I don't go to Ithaca NY's famous Friends of the Library Book Sale, where people line up the night before to get collectible bargains.)
Peter Beagle's books make the Keeper list.
I just finished his recent SUMMERLONG. Not his best book. But a not-your-best Beagle is still better than dozens of new fantasies. I know. I read them by the gallon. SUMMERLONG is a retelling of an old myth—no spoilers, you'll figure it out. Yes, there's a young woman with a doomed love affair—that's now the stuff of most fantasy. Except that she's a secondary character. The main characters are an eccentric 60ish hetero couple, who keep separate homes even though they have been together 16 years. My kind of people.
I also just finished Beagle's short story collection, WE NEVER TALK ABOUT MY BROTHER. When the author was about 19, he could already write wonderful old people—in A FINE AND PRIVATE PLACE and THE LAST UNICORN. He still can—especially in the short story "Uncle Chaim and Aunt Rifke and the Angel."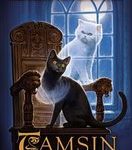 Beagle is a master at writing in a character's voice. Some characters are funny, some serious, some bewildered. TAMSIN (1999) has the most perfect character voice of his many wonderful ones. It's told by 19-year-old woman reflecting on her 13-year-old self–a New York City kid transported to a farm in Dorset, England, where she discovers ghosts and what she calls "old weirdness." I re-read this whenever life gets overwhelming. Just ordered it in hard cover because my paperback is falling apart.
Another favorite is THE INNKEEPER'S SONG. This one is told by several characters, and all of them sound different. Beagle has written screenplays; he might consider live theatre. Although then he couldn't write all the swell descriptions. I just began hunting some out, and gave up. They rely on context. Beagle doesn't just write to put beautiful words together. He writes stories.
He writes Who-are-these-amazing-people stories. I was going to say what-happens-next stories, but that always takes place in vivid environments, with people I'd like to know better. I hate stories and novels that are only what-happens-next.
When writing about Beagle, everyone always prefaces it with "Author of THE LAST UNICORN." He's done even better since then.