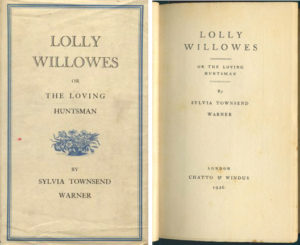 Written in 1926, by Sylvia Townsend Warner, and re-released in 1999 with an introduction by Alison Lurie, the book has now made its way to Kindle, where I found it.
But if you don't like Jane Austen, where some people feel that nothing happens, you won't like this. If you want a book made up of Important Events or and Exciting Narrative, you won't like this.
I loved it.
Laura Willowes grows up on the family estate, where she roams around the countryside, learns to distill herbs into useful potions, is companion to her father, and does not marry. As a result, when her father dies, she must, of course, go to live with her brother's family in London, where she becomes Aunt Lolly, or Miss Willowes. Laura disappears, subsumed in the life of a useful spinster. For twenty years.
That covers almost half of the novel. But before she, and we, are half asleep, Laura decides to go live by herself in Great Mop, Buckinghamshire. There, she wanders the woodlands, happily alone. There she meets the Loving Huntsman of the title (who is Satan, although he isn't very evil), and learns that she's a witch.
But witches have to do good, or evil, and she just wants to be left alone.
The prose is meandering, evocative, and unlike anything I've ever read. Although it's a new discovery for me, it's been through 93 editions, from London, New York, Paris, Leipzig, and Milan. In France it was shortlisted for the Prix Femina. It was the very first Book Of The Month in the U.S.. In 2014, Robert McCrum chose it as one of the 100 Best Novels in English.
I hope that students now read this as a matter of course. In my day, we didn't.
As Alison Lurie writes in her introduction to the 1999 re-release of this astonishing novel:
"Three years later, Virginia Woolf was to make the same point , saying that if a woman wants to be more than a household appliance, if she is to have a life of her own . . . she must have freedom and privacy and "a room of one's own." She spoke, as we now know, for thousands of women then and in years to some. But Sylvia Townsend Warner spoke for them first."